Well, I guess those back problems turned out to be something more dire. . . .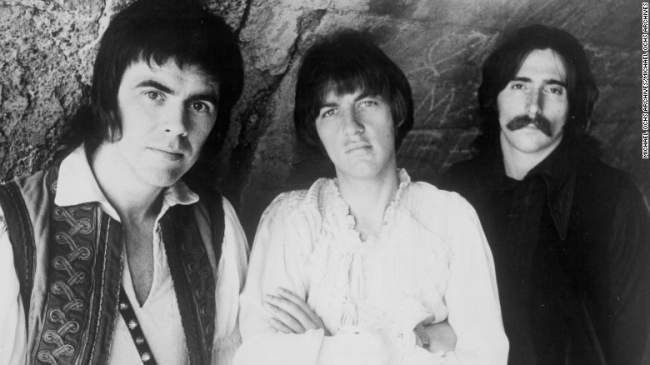 Danny Hutton, Cory Wells and Chuck Negron of Three Dog Night.  Photo by Michael Ochs.
Cory Wells.  Photo by Jon Elswick of AP.
21 top 40 hits in a row, not to mention 11 albums in the top 20 of the Billboard 200 and 12 gold albums.
And man alive the critics hated them.  For example, Village Voice critic Robert Cristgau referred to them as "the kings of oversing", and pop critic and former nominator Robert Hilburn backhanded them with the following:
As long as no one takes the group seriously, Three Dog Night can be enjoyed as a flashy, quite polished, energetic musical outfit that has learned the art of entertaining its audience,
Cory Wells himself would talk about how towards the last few years it seemed they lost their musical chops when it seemed whatever they put out everyone would buy. 
But from the perspective of growing up during the last few years of their heyday, the songs of Three Dog Night were huge, embraced and loved.  They always had a knack of picking out great songs by great songwriters and give them a sheen that took them from the original quirkiness to something that simply resonated with the teenagers and pre-teens of the early 70s.  
I go over those 21 hits and each and every one of them are stamped into my heart:
"Try A Little Tenderness"
"One"
"Easy To Be Hard"
"Eli's Coming"
"Celebrate"
"Mama Told Me (Not To Come)"
"Out In The Country"
"Joy To The World"
"Liar"
"An Old Fashioned Love Song"
"Never Been To Spain"
"The Family Of Man"
"Black & White" (who else could take a long forgotten Pete Seeger children's song about racial unity and turn it into a #1 hit?)
"Pieces Of April"
"Shambala"  (imagine all the Christian youths singing about how your light shines in the halls of Shambala. . .)
"Let Me Serenade You"
"The Show Must Go On"
"Sure As I'm Sitting Here"
"Play Something Sweet (Brickyard Blues)" (I recall this as being a double A side with "I'd Be So Happy", but everyone lists "I'd Be So Happy" as a mere B-side)
"Til The World Ends"
First, let's address the biggest elephant in the room.  Three Dog Night are accused of not only not writing their own songs, but closely covering the originals.

Well, we've already addressed a number of times, in conversations about Linda Ronstadt and Joe Cocker, that being an interpreter is in itself a talent.  Look at Elvis Presley, for the greatest example.

But Three Dog Night, although not known as songwriters, did release original versions of songs.  Not counting that their cover of "Your Song" hit the streets one month before Elton John's  (I just found out about that this morning), they released the original versions of "Celebrate", "The Family Of Man", "One Man Band" "Out In The Country" and their biggest hit, "Joy To The World".  Their version of "Joy To The World" was released in 1970 while songwriter Hoyt Axton's version was released in 1971.
As for their arrangements, many of the original versions had what I call the personal quirks of the songwriters in question, choices that would be accepted by their own fans but would keep them from the top 40.  Tapes and recommendations would come into Three Dog Night, where the vocalists and the musicians (yes, Three Dog Night was a band, and not just three vocalists) would consider them, unanimously decide on a few and go over them until they were happy.  The result was popular versions that happened to fit into the developing top 40 radio station format of the time.  The "wow" factor Three Dog Night would add to each of their songs propelled them to greatness. . . .
. . .not counting the mediocrity.  Notice their highest charting album is the compilation Golden Biscuits?  Three Dog Night suffered from the same malaise as Chicago, except that Three Dog Night only issued single albums where Chicago issued double albums.  There would be very few deep tracks by Three Dog Night (such as "I'd Be So Happy") that would resonate as much as the singles pulled from the albums.  Safe to say that most listeners owned their singles, not their albums, except for the greatest hits compilations Golden Biscuits and Joy To The World.  What's more, like the Steve Miller Band, people would love their songs but not the band.  Just like you'd be hard-pressed to find a fan of the Steve Miller Band, you'd also be hard-pressed to find a fan of Three Dog Night.  I mean, if I hadn't written out the names of the three singers, would you know them?  And would you know any of the musicians in the band?  These acts have fans, but they're not in great numbers.  The members could walk down the street and no one would recognize them, and I'm not talking about New York.  People just love the songs.
"Joy To The World" aside (and that's a huge aside), Three Dog Night's greatness was in propelling deserving songwriters to deserving greatness.  That was their greatest contribution to rock history, and for that, I tip my hat to them.
And then there's all the joy they gave me as a kid.  Assessing Three Dog Night is hard for me because they're such a guilty pleasure.  These are the songs I grew up with.  Yes, I've already written that their albums were very uneven, that they only had fans of the songs and not the bands, that their influence on other groups lies mostly with the collaborations of individual members and the covers of their songs, particularly "Joy To The World", and that their greatest achievement was to bring notice to so many great songwriters.  But is that enough?  I'd love to say yes, not because of any of those reasons, but because their songs seem so immortal to me and those of my age.  On the other hand, I'm keenly aware that people older than me, as well as people my age who were into metal, prog, or something else, and people younger than me who were into punk, would beg to differ on that opinion.  But I'm afraid the answer to that question will have to be deferred to people who can best assess it - future generations.  Will future generations love Three Dog Night's songs enough to enshrine them?  It's their call, not ours.
Let's look at Cory Wells himself.
From Elaine Woo of the Los Angeles Times:

Born Emil Lewandowski to a single mother in Buffalo, N.Y., on Feb. 2, 1941, Wells grew up streetwise and had mostly black friends whose musical tastes he absorbed.
While Wells' family included several polka performers, his biggest influences were black gospel and rhythm and blues.
Woo also wrote:
After high school Wells joined the Air Force, where he formed an interracial band inspired by his love of the 1950s doo-wop group the Del-Vikings.

When he completed his military duty, he returned to Buffalo and sang with a number of bands, including the Fidelitones and the Satellites. In the early 1960s he moved to California with the Vibratos, which evolved into Cory Wells and the Enemys.

The Enemys became the house band at the Whisky a Go Go nightclub on the Sunset Strip. Wells met Sonny and Cher there when Richard Burton and Elizabeth Taylor rented the club for a party.
Cory Wells and Danny Hutton decided to continue as a group with Chuck Negron, and according to Wells, the name Three Dog Night came from a girlfriend Hutton had at the time, who read an article about Australian aborigines who would take a dog in bed with them during winter if it got too cold.  If it's really cold, they figured, it would be a three dog night. . . .


It's 1967 our first live gig at The Earl Warren Show Grounds in Santa Barbara Ca. The show began unceremoniously and awkwardly for the three lead singers. While finding our way on stage searching for a persona, an identity, to complement each other ...Cory begins to dance all over the stage engaging the audience making it very clear to me, and probably Danny, that he and I better loosen up and create some excitement on stage not only with our voices but with a physicality designed to excite.




Cory created that mind set and ultimately how Three Dog Night would present itself. We followed his lead and became the most exciting rock band in the world.
When the endless stream of top 40 hits ended with the ironically titled "Til The World Ends", the band split up, then tried to reunite in the 80s, then split up again.  Wells and Hutton, along with TDN members guitarist Michael Allsup and the late keyboardist Jimmy Greenspoon, continued performing as Three Dog Night while
Chuck Negron chose a solo career
consisting largely of singing TDN songs.
I'll end with another Cory Wells story, about a backhanded compliment he received from R&RHoF inductee Randy Newman back when Three Dog Night took "Mama Told Me (Not To Come)" to number one (again, from Woo's obituary):
Wells, who sang the lead, was fond of telling the story of a phone call he later received from Newman. "He said, 'I just want to thank you for putting my kids through college.' Then he hung up.
Cory Wells, one of the three lead singers of Three Dog Night, died 21 Oct 2015 in Dunkirk, New York.  Cause of death has not yet been disclosed.
Woo also reports:
Wells, who lived in Malibu for many years until his home was destroyed along with more than 300 others in the 1994 fire that swept through the area, is survived by his wife of 50 years, Mary; daughters Coryann and Dawn Marie; and five grandchildren.